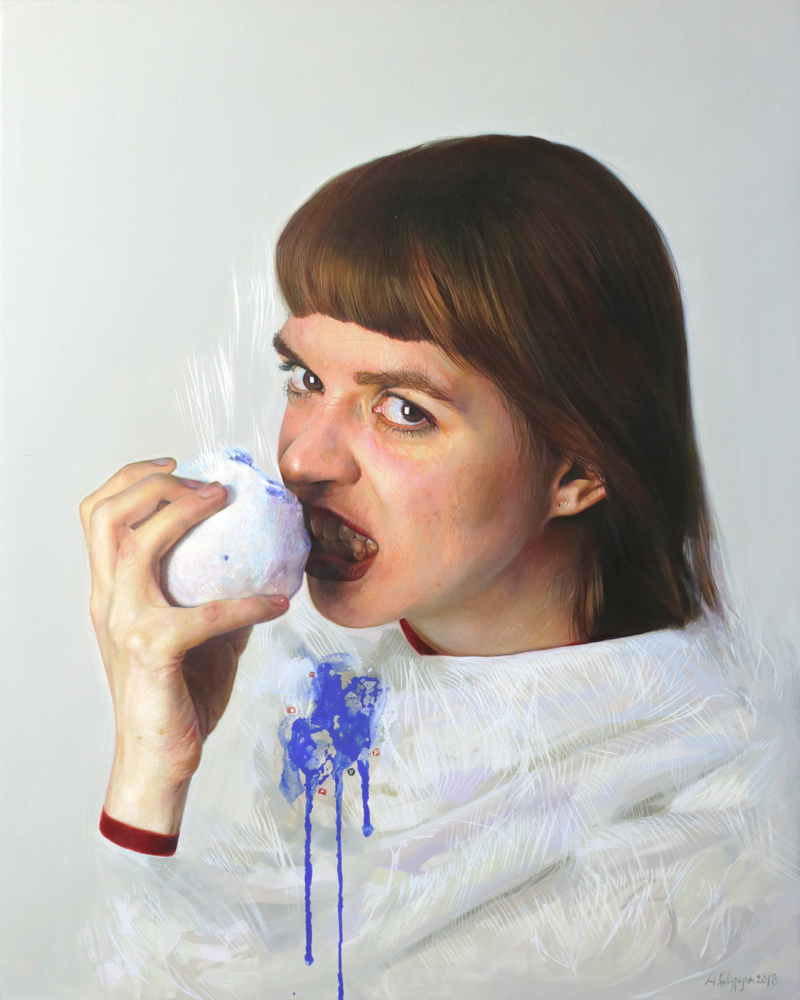 "Character" oil on canvas 16×20 inch 40/50cm 2018
like blood in tv
like dangerous women in pop culture
like living conscious, true, attentive life
when you have to participate in social media
bite life with big bites,
like witchy charakter from fantasy movies
and smile
because you can.
/
Painting like a wry smile with winking.
This moment where the action movies usually start. There is some inattentive dude who happens to be in the wrong place at the wrong time. He is unlucky mieserable guy, because he sees something he's not to suppose see. He opens the door and the vampire is there. Usually, then the dude die and movie begins.
Recently, I sailed in the atmosphere of fantasy and a bit lighter climate, a bit of a joke a bit of fun, and only a little seriousness. Because it's better to live with some humor. You certainly know someone who is not in the habit of smiling. When he does smile, appears that strenge a bit crooked, wry smile, which looks very hilarious. I smile at you and winke to you.
"Charakterek" olej na płótnie 40/50cm 2018
jak krew w tv
jak niebezpieczna kobieta w pop kulturze
jak świadome, prawdziwe, uważne życie
gdy musisz być obecny w social media
gryź życie dużymi kęsami
jak wiedźmowy charakterek z filmów science fiction
i uśmiechnij się
bo możesz.
/
Obraz jak krzywy uśmiech i puszczanie oka.
Ten moment , w którym zwykle się filmy akcji zaczynają. Jest jakiś nieuważny lekkoduch, który przypadkiem znajduje się w niewłaściwym miejscu o niewłaściwym czasie. Ma pecha biedak bo widzi coś czego widzieć nie powinien. Otwiera nie te drzwi, a tam wampir. Zwykle potem ginie i zaczyna się film.
Ostatnio pożeglowałam w klimaty fantasy, w trochę lżejszy klimat, trochę żartu trochę zabawy, a powagi tylko troszkę i tak jakby pod spodem. Bo lepiej się żyje jak się troszkę pożartuje. Na pewno znasz kogoś kto nie ma w zwyczaju się uśmiechać. Kogoś kto gdy już to robi, pojawia się ten trochę krzywy trochę sztywny uśmiech, który sam w sobie jest przezabawny. Uśmiecham się do was i puszczam wam oko.