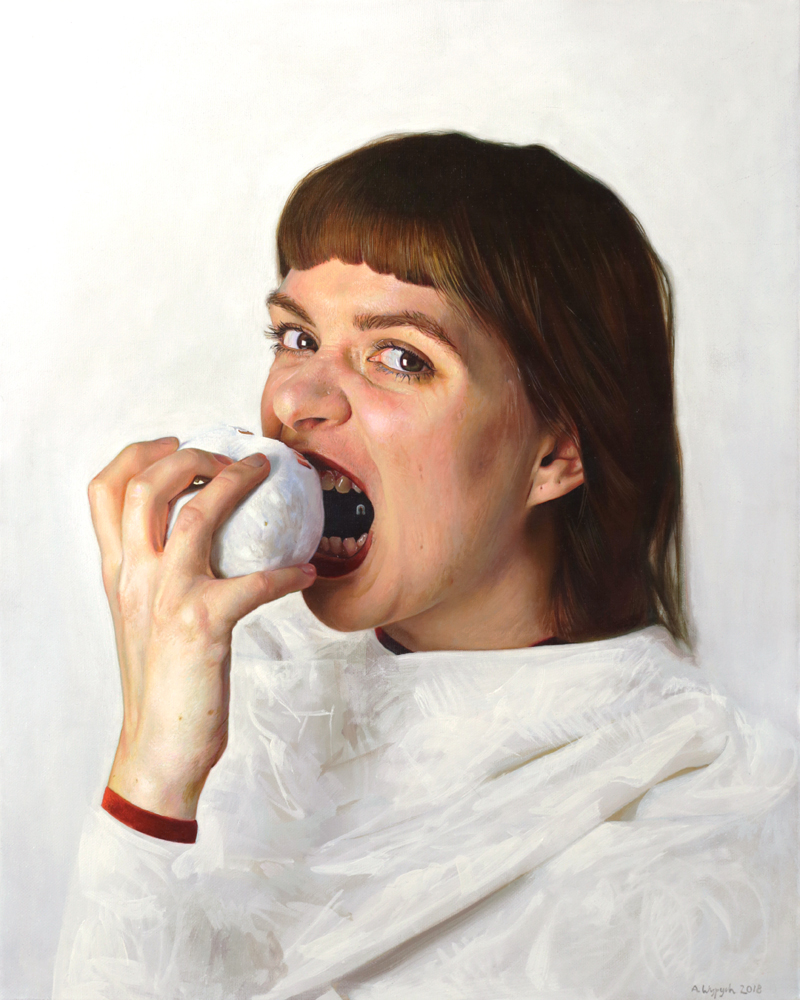 "Biting Princess" oil on canvas 16×20 inch 40/50cm  2018
Like a Princess
who walks through life with a dancing steps
like that evil Eve
like wild predator, who you really are
like really hungry person
bitting life with big bites,
Because life should be lived.
With all the mistakes you can afford.
This painting is a quote or a moment took in a bracket, a feeling. Sometimes we have a lot on our minds, a lot is happening arround, we need to make important decisions, we need to tidy ourself, need to make ourself on right path, to follow everything, and be up. And We lost ourselfs a bit in this multum of everything. But suddenly we realize that all this is basically simple – enough of trembling about everything, enough of worrying and doubts – just do it – just bite it. Just live.
I used the white apple in the previous project (i will publish it soon, after this) as a metaphor of time, its passage, and in this particular case it symbolizes the present moment, as if frozen. Funny because here it also looks a bit like a Polish donut with icing;)
The inspiration behind the creation of this painting was also the work of Kit King, her wonderfull painting which somehow stuck deep in my brain. It's all biting, with fleshiness fleshy character. Respect, and greetings Kit King!
"Biting Princess" oil on canvas 40/50cm 16×20 inch 2018
Jak Księżniczka
która idzie przez życie tanecznym krokiem
jak ta zła Ewa
jak zwierze którym naprawdę jesteś
jak bardzo głodna osoba
gryź życie dużymi kęsami
Bo życie powinno być przeżyte.
Ze wszystkimi błędami na które możesz sobie pozwolić.
Ten obraz to cytat lub wyjęty w nawias pewien moment, uczucie. Czasem mamy dużo na głowie, sporo się dzieje, trzeba podejmować ważne decyzje, trzeba ogarniać, trzeba trzymać pion i być na bieżąco. I człowiek już sam nie wie, czuje że się gubi w natłoku tego wszystkiego. Ale nagle zdaje sobie sprawę, że to wszystko w gruncie rzeczy jest proste – dość drżenia o wszystko dość przejmowania się. Po prostu to zrób, po prostu to ugryź, po prostu żyj.
Białe jabłko użyłam w poprzednim projekcie (wkrótce go opublikuje) jako metaforę czasu, jego upływu, a w tym konkretnym przypadku jako obecnej chwili, jakby zamrożonej. Tutaj wygląda trochę jak polski pączek z lukrem 😉
Inspiracją do powstania tego obrazu była też praca Kit King, obraz który jakoś tak utkwił mi głęboko w mózgu. To całe gryzienie, z mięsistością cielistością. Szacunek, i pozdrowienia Kit King!