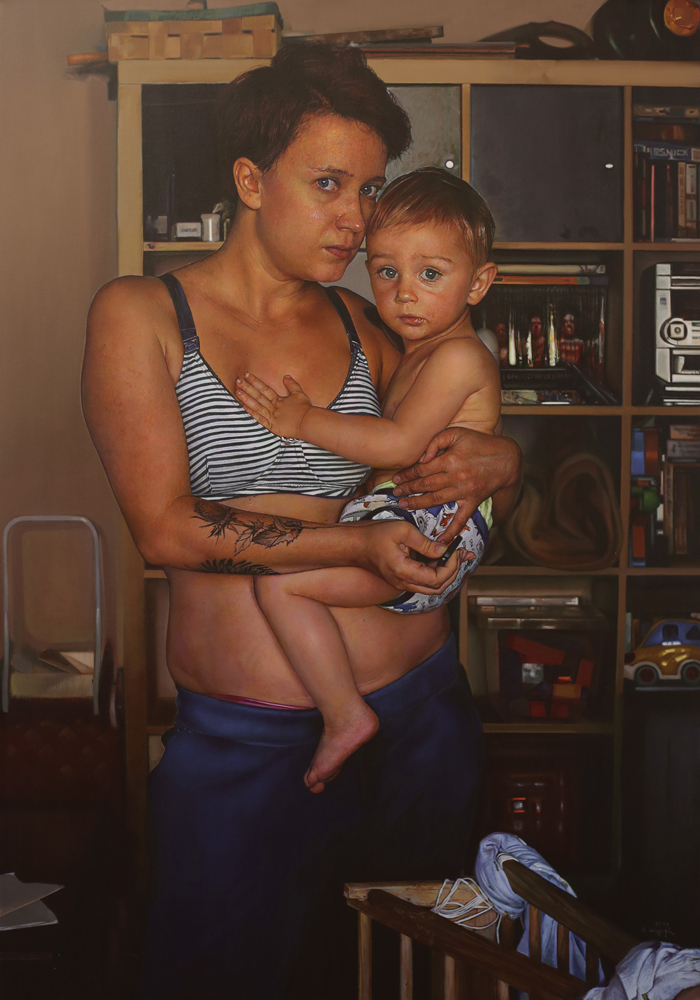 "Paradox" Boson 5, oil on canvas 39,5"x27,5" 100/70 cm 2017
This is fifth painting from series "Boson" about freedom and its variety of meanings and contexts. This time I asked myself about freedom in context with parenting.
Paradox – poem 1
I will never be free because I love you more than myself.
I will never be free because you will always be with me, always in my thoughts.
I will never be free, I will always worry about you.
but
I am free because I can think about myself,
I am free because I can respect your needs as well as mine,
I am free because I know that I don't have to sacrifice myself, because I know that I have a choice in everything.
I'm free because I feel free.
"Paradox" The paradox of a glass of water – how can there be two true sentences that stand in contradiction?
As I am customary, my project always has several meanings and can be interpreted in many ways. Below the poem about this painting, but as if on another level – parallel.
Paradox – poem 2
Suddenly appeared an incredible light …
This is this moment just before sunset, when the temperature of the light changes every minute,
It takes on the most magical shades.
the female froze – like a deer in the light of an oncoming truck.
And the light ran from very afar
from space,
it overcame a light years,
spaces of emptiness,
at the end, it ricochets multiple times to earthly things, hit in a residential block across, rebound at
exactly the same time when they glanced up.
It has arrived somehow, by a miracle.
The message from the cosmos has arrived, the second was enough, and it was loaded flawlessly.
The female and the young got the message.
"Paradoks" Boson 5, olej na płótnie 100/70 cm 39,5"x27,5" 2017
To jest piąty obraz z serii "Bozon" o wolności, w jej różnorodności znaczeń i kontekstów. Tym razem zapytałam siębie o wolność w kontekście bycia rodzicem.
Paradoks – wiersz 1
Nigdy nie będę wolna bo kocham cie bardziej niż siebie.
Nigdy nie będę wolna bo zawsze będziesz ze mną, zawsze w moich myślach.
Nigdy nie będę wolna, zawsze będę się o ciebie martwić .
ale
Jestem wolna bo potrafię myśleć tez o sobie.
Jestem wolna bo potrafię uszanować i twoje i swoje potrzeby.
Jestem wolna bo wiem ze nie muszę się dla ciebie poświęcać, bo wiem ze we wszystkim mam wybór.
Jestem wolna bo czuje się wolna.
/
"Paradox" Paradoks szklanki wody – w jaki sposób mogą istnieć dwa zdania prawdziwe, stojące ze sobą w sprzeczności?
Tak jak mam w zwyczaju, mój projekt ma zawsze kilka znaczeń i może być zinterpretowany na wiele sposobów. Poniżej wiersz mówiący o tym obrazie ale , jakby na innym poziomie – równolegle.
Paradoks – wiersz 2
Nagle zrobiło się światło niesamowite…
To ta pora tuz przed zachodem słońca, gdy temperatura światła się co chwile zmienia,
gdy przywiera najczarowniejsze odcienie.
– samica zastygła – jak jeleń w świetle nadjeżdżającej ciężarówki.
A światło biegło z daleka,
z kosmosu,
pokonało lata świetlne,
przestrzenie pustki ,
na koniec poobijało się od ziemskich rzeczy i rąbnęło w blok naprzeciwko, od którego się odbiło dokładnie w tym momencie, gdy akurat patrzyli.
Jakimś cudem dotarło.
Komunikat z kosmosu dotarł, sekunda wystarczyła i się wgrał bezbłędnie.
Samica i młode odebrali wiadomość.
Inspirations:
Cesar Santos – I once read somewhere (sorry I do not remember where it was) that he loves painting portraits for commission. His work shows the joy of meeting people and experiencing them. He can wonderfully show the character of the model. I like his natural-realistic style. I wanted my painting has that charm – naturalness. http://www.santocesar.com/Individuals
Jeremy Lipking, because when his youngest children, twins came into the world, the first thing he did, was he run to the hospital with paints and immediately painted both his newborn Children. https://www.instagram.com/p/BLEgksrhRRp/?taken-by=lipking
Robin Eley, in honor of his newly born children, created a great and very interesting "Binary Project" which involved thousands of people in the world (me among them). https://www.instagram.com/p/BUVOYaVFVOK/?taken-by=robineleyartist
Adam Hall, a fantastic artist, has in his studio a part dedicated to the sons, where they create art together (I know it from the instagram). https://www.instagram.com/p/Bau8XrQHbaq/?taken-by=adamhallart
Inspiracje:
Cesar Santos – przeczytałam kiedyś gdzieś (przepraszam nie pamiętam gdzie to było) że uwielbia malować portrety na zamówienie. W jego pracach widać tą radość z poznawania ludzi i przebywania z nimi. Potrafi fantastycznie pokazać charakter modela. Bardzo lubię jego swobodny-realistyczny styl. Chciałam żeby mój obraz tez miał ten urok naturalności. http://www.santocesar.com/Individuals
Jeremy Lipking, bo kiedy jego najmłodsze dzieci, bliźniaki przyszły na świat to pierwsze co zrobił to poleciał do szpitala z farbami i od razu je namalował. https://www.instagram.com/p/BLEgksrhRRp/?taken-by=lipking
Robin Eley na cześć swoich nowo narodzonych dzieci stworzył wielki i bardzo ciekawy "Binary project" w który zaangażował tysiące osób na świecie. https://www.instagram.com/p/BUVOYaVFVOK/?taken-by=robineleyartist
Adam Hall, fantastyczny artysta ma w swojej pracowni część wydzieloną dla synów gdzie razem z nim tworzą (wiem to z instagrama). https://www.instagram.com/p/Bau8XrQHbaq/?taken-by=adamhallart