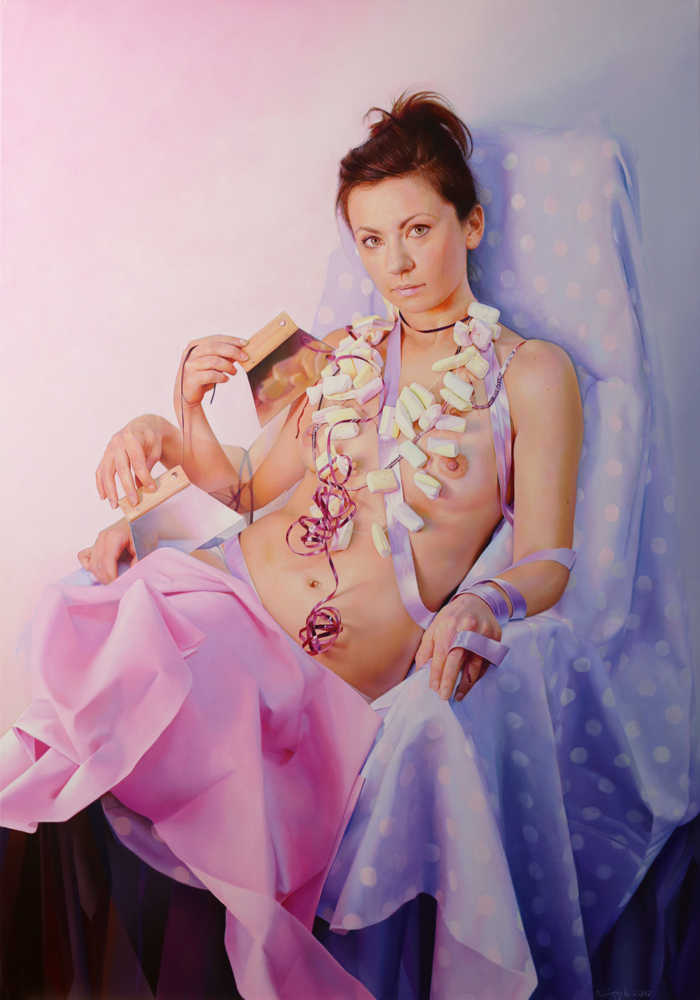 "Too sweet to be serious." Boson 3, oil on canvas 100/70cm 39,5"x27,5" 2017
"Freedom is to be yourself !!!"
shouts at me my tv everyday.
But this is only me here,
always a bit unstabil,
average person…
In the world where everything have to be unique
I am as unique as everybody are.
Just enough to have nice post in social media.
with my typical dreams
predictable choises
I do not have to proof to enybody anything.
I don't need to explain from my emotions in front of anybody.
Sometimes I like rosy color
Sometimes I paint my nails for gold
because I am so girlish.…
My trophy necklace is also pretty
It has ribbons, sequins and enemys bones are pretty cut out, smooth and lovely – like pebbles or marshmallows
This is me. – as i like to be.
"Bądź wolny ! Bądź sobą!"
codziennie krzyczy na mnie telewizor
ale to tylko ja jestem tutaj
zawsze trochę niestabilna
przeciętna…
W świecie gdzie wszystko musi być wyjątkowe
Jestem tak wyjątkowa jak wszyscy inni.
Wystarczająco tylko żeby mieć fajnego posta na portalu
z moimi typowymi marzeniami
przewidywalnymi wyborami
nie muszę nic nikomu udowadniać.
Nie muszę się tłumaczyć z moich emocji przed nikim.
Czasem lubię różowy kolor
Czasem maluje paznokcie na złoto
bo jestem taka dziewczęca…
Mój naszyjnik z trofeów też jest ładniutki
Ma wstążki, cekiny, a kości wrogów są ślicznie wyszlifowane, gładziutkie i urocze – jak kamyki lub słodkie pianki.
To ja – taka jak chce być.
PS
I always had "something" with pink color and I'm coming back to it regularly in my works. My first pink painting I did during studies ("Plastik fantastic"), then there were many of them, but one of the most important was the one I painted drunk with hormones in my early pregnancy (2015). I wear pink clothes very rarely (oh maybe socks), but I happen to paint my nails for that color. I rather do not surround myself by pink objects, although magenta is one of the more important and more frequently used colors on my palette. It just easily connects with other colors and cross them nice.
Pink and rosy is considered as a "womanish" or "girlish" color and easily connected with tastelessness (saying it less nice: cheap and trashy), but when we combine it with black, it already looks very classy, so everything depends on the context and tone, I think. Both pink and girlhood/womanhood are laden with a multitude of stereotypes and schemats. I'm just winking at this all. Simply, sometimes I like to paint a rosy painting. It's such a noble color.
This time I was inspired by the work of Will Cotton with its sweetness and softness. Again, Dino Valls also had his influence on my work (Dino! Get out of my head!). Already during working on this painting I found the artwork of Jana Brike, who also intrigued me, with her girlish atmosphere, but a bit like a dirty, and because of that, very hypnotizing … Like her character's nails, painted, but with crushed color. Very nice. So greetings and kisses to Will, Dino and Jana!
More about series "Boson" here: http://annawypych.pl/?page_id=1402
PS
Zawsze miałam "coś" do koloru różowego i regularnie wracam do niego w obrazach. Mój pierwszy różowy obraz namalowałam na studiach, potem było ich wiele, ale jednym z ważniejszych był ten który malowałam pijana hormonami we wczesnej ciąży. Bardzo rzadko nosze różowe ubrania ( no może tylko skarpetki) ale zdarza mi się pomalowac paznokcie na ten kolor. Raczej się nie otaczam różowymi przedmiotami, choc właśnie magenta jest jednym z ważniejszych i cześciej używanych kolorów na mojej palecie. Po prostu dobrze mi się łączy z innymi kolorami i ładnie je przełamuje.
Różowy jest uważany za "babski" kolor i kojarzony z jarmarcznością (tandetnością brzydko mówiąc), ale jak go połączyć z czernią to już wygląda bardzo classy więc wszystko zależy od kontekstu i odcienia chyba. Zarówno róż jak i szeroko pojęta dziewczęcość / kobiecość jest obciążona mnóstwem stereotypów i schematów. Ja tutaj właśnie puszczam do tego wszystkiego oko. Zupełnie zwyczajnie, czasem lubię sobie namalować różowy obraz. To bardzo zacny kolor.
Tym razem zainspirowały mnie prace Willa Cottona z ich słodyczą i miękkością. Także znowu Dino Valls miał też swój udział ( Dino! Wyłaź z mojej głowy!). Już pracując nad tą pracą natknęłam się na twórczość Jany Brike, która tez mnie wciągnęła z swoim dziewczęcym klimatem, ale takim trochę jakby brudnym, a przez to bardzo hipnotyzującym… Jak paznokcie postaci na jej obrazach, pomalowane, ale obłupane nieporządnie. Coś fajnego. Tak więc pozdrowienia Will Dino i Jana !
więcej o cyklu "Boson": http://annawypych.pl/?page_id=1402