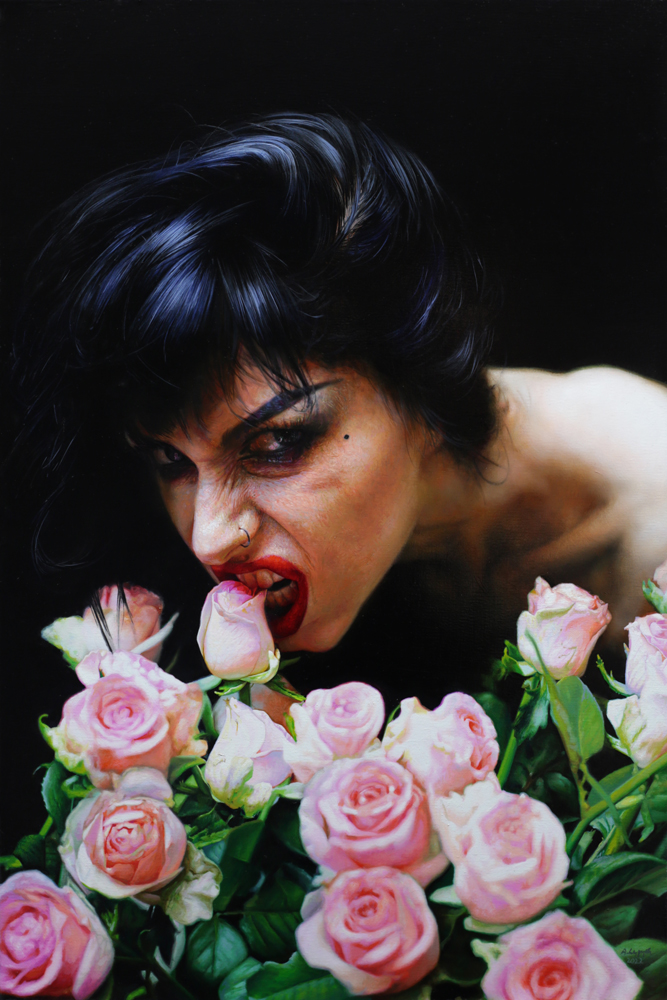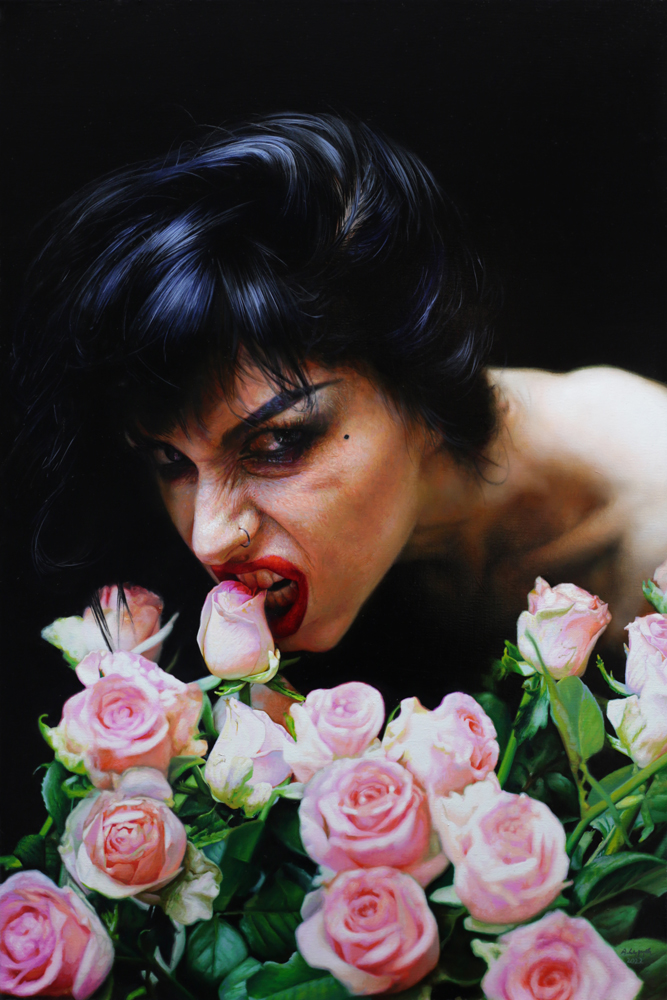 "Nice " Feast 3, oil on canvas 16x24in 40/60cm 2022 Anna Wypych
"Nice" Uczta 3, olej na płótnie 40/60cm 2022 Anna Wypych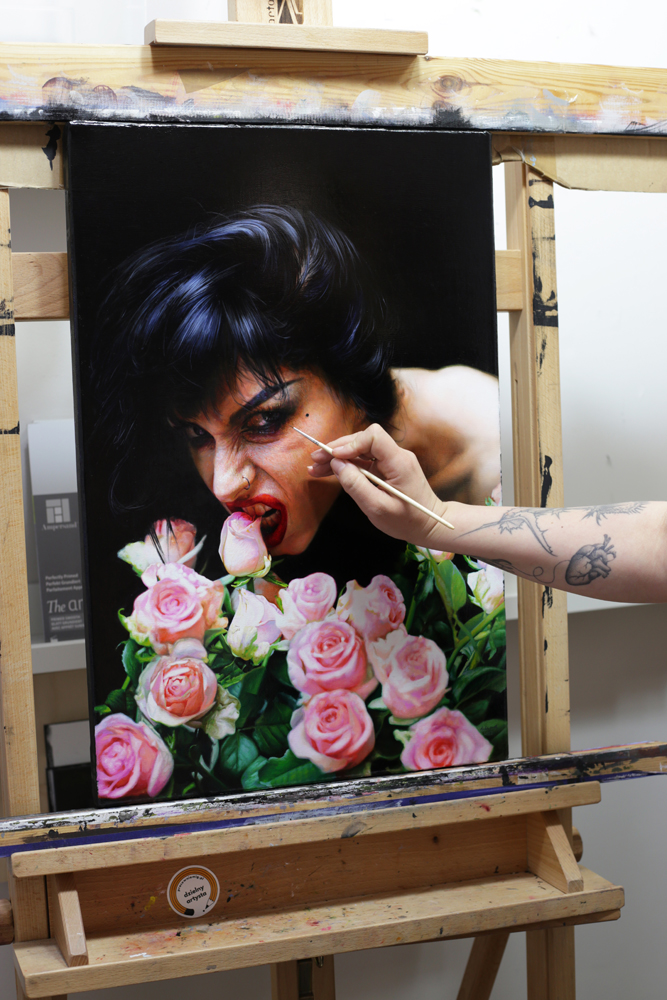 I don't want to be pretty anymore
I don't want to be nice anymore
from now I will be good for myself
"Where is your anger?!" *
right here.
I'm not gonna put it in the box anymore.
I will not hide in the wardrobe.
But I will stroke the dirty fur
and I will say that it can be here.
* quote from "The Affectionate Guide" by Natalia De Barbaro
Sugar situation, someone gives you flowers. An innocent thing. Nice and kind. Kind of…
But flowers are not always flowers in fact, and kind deeds are not always something truly nice.
Sometimes it seems that you get care but in fact, you get control. It looks like someone helps you, but in fact, takes your freedom piece by piece. Sometimes someone is feeding you, but not to make you feel full, but to eat you fatter afterward. Sometimes good things aren't really good.
I wish you always know, what is what, at the right time.
And now imagine that person's surprise, when instead of saying thank you for that "help" "being nice", you act like the lady in the painting.
It is also a bit of a joke / nonjoke.
Of course, it is nice to get flowers, and after such a performance, your husband/boyfriend/partner would give you another flower, not very soon. So it's not literal but it's a metaphor, quotation marks, a variation on a theme. I do not urge anyone to eat flowers (I like them too much), but rather to watch carefully what is happening around us and inside us.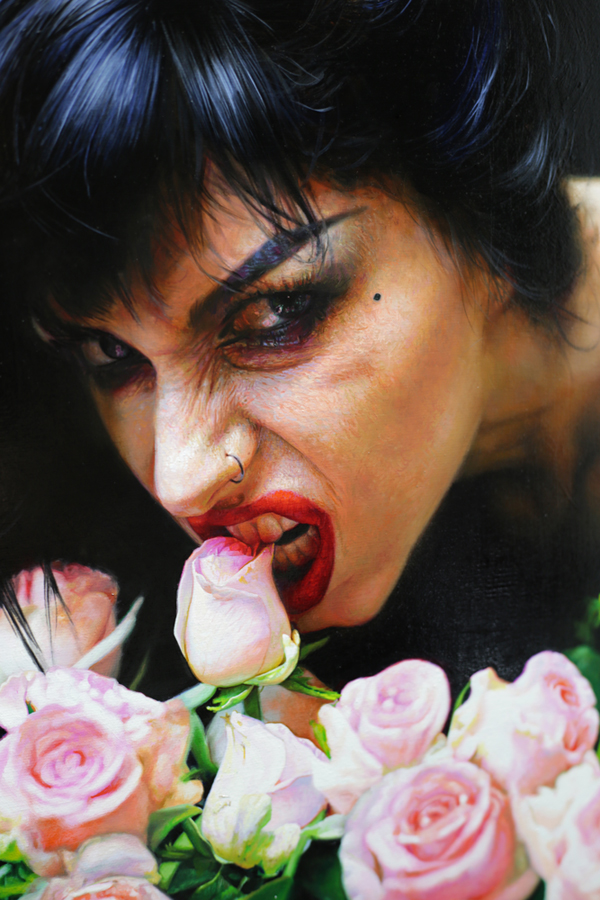 nie chce być już ładna
nie chce być już miła
a dobra odtąd będę dla siebie
"gdzie jest twoja złość?!"*
o tutaj.
Nie wcisnę jej więcej do pudełka.
Nie ukryję w szafie.
Ale pogłaskam po brudnym futerku
i powiem że może tu być.
* cytat z "Czuła przewodniczka" Natalii De Barbaro
Cukrowa sytuacja, pan daje pani kwiatki. Niewinna sprawa. Miło w sumie. Niby.
Ale kwiatki nie zawsze są tak naprawdę kwiatkami a mile czyny czymś tak naprawdę miłym.
Czasem niby dostajesz troskę a tak naprawdę kontrole. Niby ktoś ci pomaga a tak naprawdę po kawałeczku odbiera wolność. Niby ktoś cie karmi, ale nie po to żebyś czuł się syty, ale żeby cie potem tłustszego zjeść. Czasem dobre rzeczy nie są tak naprawdę dobre.
Życzę wam abyście zawsze umiały/umieli w porę się zorientować co jest czym.
I teraz wyobraź sobie zdziwienie fircyka gdy zamiast dygnąć i podziękować zachowujesz się jak pani na obrazie.
Jest to też trochę taki mój Żart / nieżart.
Wiadomo że miło dostawać kwiatki i po takim numerze mąż/chłopak/partner raczej nieprędko by ci dał następne. Wiec nie chodzi tu o dosłowność ale jest to metafora, cudzysłów, wariacja na temat. Nie namawiam nikogo na zjadanie kwiatków (zbyt bardzo je lubię), ale raczej na przyglądanie się uważne temu co się wokół nas i w nas dzieje.